Carnival in Sardinia has many faces, all with their own particular names and stories.

With their masks, goat skins and cowbells, several figures walk along the streets recalling ancient rites, propitiatory dances and the close relationship between men, animals, and their instinct.
Ottana (Otzana in Sardinian language), is a small village in the province of Nuoro, marked by monuments and places of interest such as several nuraghe, domus de janas, megalithic walls, and the church of Saint Nicholas, seat of the Diocese until 1503.
Its Carnival is one of the occasions most longed for by residents, who take part actively in the masquerade around the bonfire, beginning in the evening of January 16, dedicated to Saint Anthony the Great.
The Carnival of Ottana is among the most distinctive and interesting ones in the Mediterranean Region. Traces of ancient rites, in which the fertility cult is rooted, are evident in the masks of "Boes" and "Merdules". The figures of the Carnival are diverse: "Merdules" wear the "Caratza de Merdule", a wooden mask with a human face, whereas "Boes" wear the "Caratza de Boe", a bull-like wooden mask featuring floral decorations carved with chisels and knives.
The bull figure, ancient Nuragic god and symbol of vital strength, is a constant in Mediterranean civilisations. Especially in Sardinia it is present in several forms, from taurine protomes decorated in the domus de janas, to those of Nuragic boats, to those, quite likely, of the mask "su Boe" of Ottana, the only one one among Sardinian carnivals to have kept unchanged its name, role, and mask.
The "Merdule" represents the owner of the animal who tries to catch and tame it with a stick, while the "Boe", with cowbells arranged like a bandoleer, rebels, and tries to escape from the Merdule's command.
During the carnival's performances, Merdules, (the bulls' herdsmen) wear masks as black as coal, grimacing and disfigured as if they were old shepherds bent by hard work.
The herdsmen try to master the Boes (the bulls) by chasing, whipping, and catching them with a stick or a leather rope for the entire parade.
The "Boes" can kick, go wild and fall to the ground: it will be up to the Merdule to calm the animal, stroking its snout, and spurring it so that it gets back on its feet and resumes his hard work of tilling the land.
The two main figures of this carnival simulate in this way the fight between the reason of men and the instinct of animals, with wooden masks on their face and heavy cowbells on their back.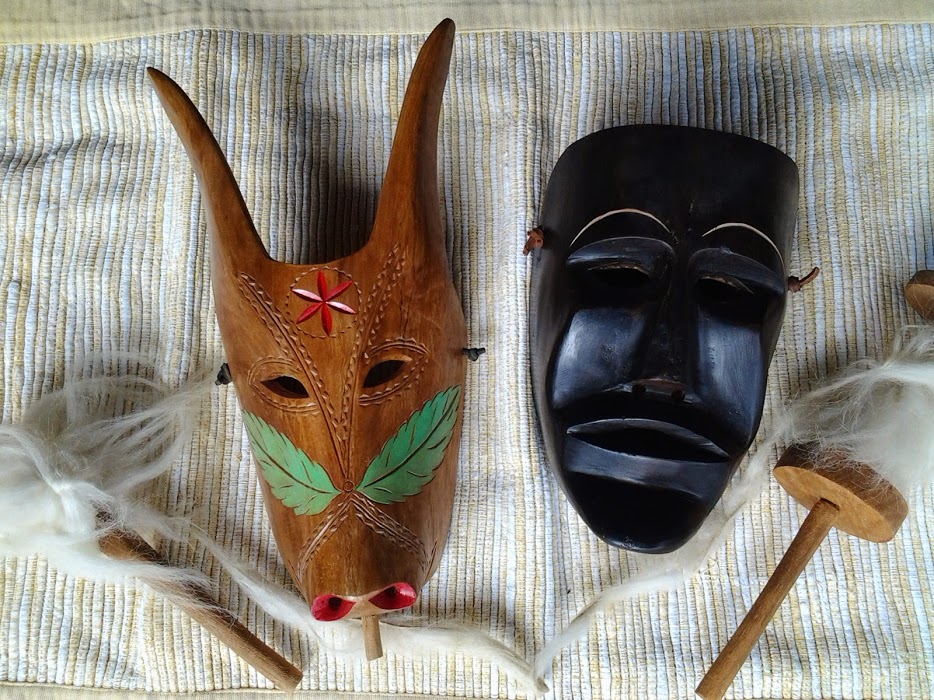 Another character is the "Filonzana", the only female character in the Sardinian carnival (played by a man anyway) who, with a spindle and a distaff, represents a spinstress.
"Sa Filonzana" portrays a lame, humpback old lady, wearing a black headscarf and a mask made of wild pear tree wood.